Yellow Fish Curry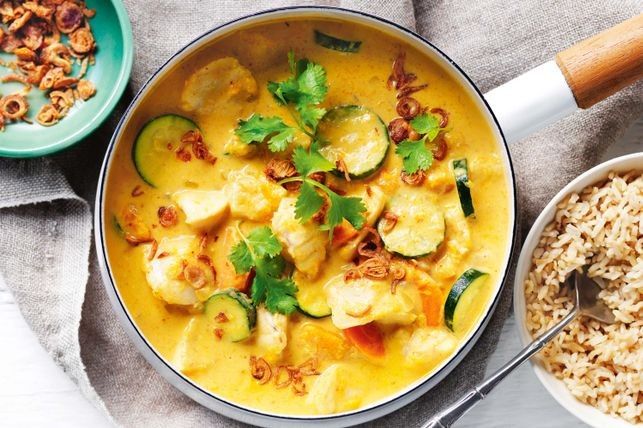 Prep: 10 minutes | Cooking time: 20 minutes | Serves: 4 | Source: www.taste.com.au
Warm up with this easy yellow fish curry, served on steamed brown rice and topped with crispy fried shallots
INGREDIENTS
1 tablespoon peanut oil

1 brown onion, finely chopped

1 carrot, thinly sliced

1 zucchini, thinly sliced

400g butternut pumpkin, cut into 2cm pieces

2 tablespoons yellow curry paste

400ml can coconut milk

700g firm white fish fillets (such as blue grenadier), cut into 3cm pieces

2 x 250g pkts Tilda Steamed Brown Basmati Rice

1/2 cup coriander leaves

1 tablespoon fried shallots


METHOD
Step 1

Heat the oil in a large wok over medium heat. Add the onion, carrot, zucchini and pumpkin and stir-fry for 5 mins or until onion softens.



Step 2

Add the curry paste. Cook, stirring, for 1 min or until fragrant and vegetables are coated in paste. Stir in the coconut milk and bring to the boil. Reduce heat to medium-low. Simmer, covered, for 10 mins or until pumpkin is tender.



Step 3

Add the fish and stir gently to combine. Simmer, uncovered, for 5 mins or until fish is cooked through. Season with salt and pepper.



Step 4

Meanwhile, heat the basmati rice following packet directions.

Step 5

Sprinkle curry with coriander and fried shallots. Serve with the rice.